The dashboard is the page you see when you first log in. To get back to the dashboard at any stage, simply click the Fuseworks logo at the top left. At a glance you'll see: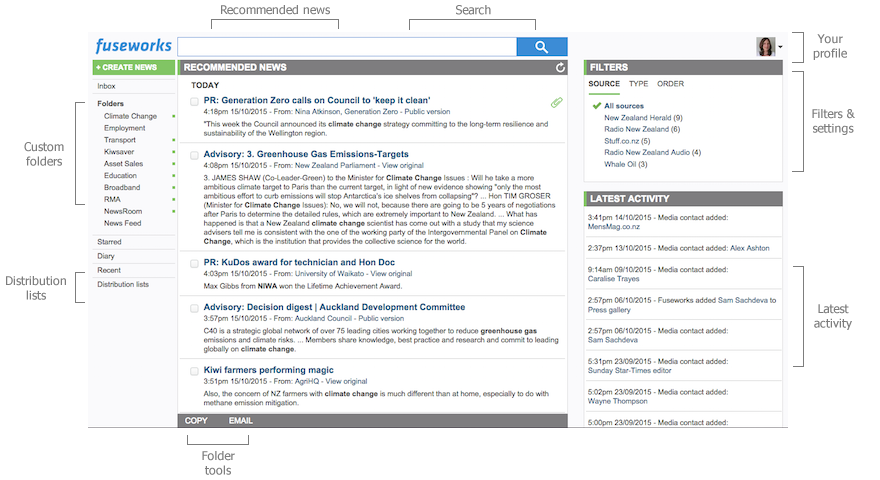 Folders – Folders surface and group content in Fuseworks. Add your own custom folders to track the topics you're interested in. Your folders are always on the left in Fuseworks so you can get to them from anywhere.
Distribution lists (with News distribution add-on only) – Use the wide range of distribution lists we keep up to date for you, or view and build your own lists.
Recommended News – Recommended news that relates to your organisation and topics of interest.
You can show new content on the dashboard by clicking the refresh button.

Search – Use search for in-depth research or to track down something specific. The search box is always front and centre in Fuseworks so you can access it from wherever you are.
Your profile – Your profile lets you view and edit your details, as well as manage your folders, tags, reports and the topics you're following.
Filters and settings – Filters show a breakdown of the articles in your 'Recommended news'. Click on the source or type of content to filter the news on your dashboard. You can choose to order your Recommended news by 'Relevance' or 'Date' under the 'Order' tab.
Latest activity – Latest activity shows the most recent PR content put out by you or your organisation and any changes we've made to the media contacts database.
Folder tools – Folder tools let you move content around and build your own reports. Folder tools are also available on folders, search results and related items.