A newsletter template includes default sections to help you arrange your news and a custom image header, for branding (Tools only).
How to get to your templates
Step 1 – Click on your profile icon at the top right and click 'Reports' on the overlay.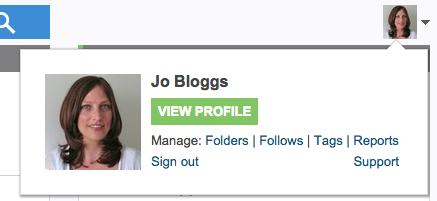 Step 2 – Click on the 'Templates' tab.

How to create a newsletter template
From the 'Templates' tab, click 'Create new template' in the grey bar at the bottom, then follow the steps in the 'Create template' overlay.

Step 1 – Choose template type – Choose 'Newsletter' from the drop down.

Step 2 – Upload template header – Click 'Choose file' to upload the image you want to appear.

Your image will appear in the horizontal header area at the top of your newsletter, so about 100 pixels high is a good size. If the image isn't full width it will look best if it's on a white background.
Step 3 – Set default subject line for newsletter – Enter a subject line for your newsletter so you can tell which one it is when you need to use it.

Step 4 – Set default intro for newsletter – Enter the intro text that will be added to the top of your newsletters.

You can include links in your intro. Select the text you want to link, an insert link symbol will appear – click it and enter the link. Then click the tick icon to confirm.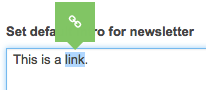 Step 5 – Set default sections for newsletter – Click '+ Additional section' and enter the name of the first section you want in your newsletter. Repeat to add all the sections you want in your newsletter.

Step 6 – Tick 'Share with my organisation' if you want others to be able to use the newsletter template.

Step 5 – Click 'Create' to save your newsletter template.

Related Articles