View or download a report anytime from search results (Media, Reports and Tools only).
Search reports let you track down something specific – beyond the regular monitoring set up in your folders. If you already have a folder set up to track the news you want to report on you can run a folder report.
Step 1 – Run a search for the topic you want to report on.
Step 2 – Refine the results included your report by using the filters. To set a custom date range, click to expand 'Filters', then click 'More' and under the 'Date' heading click 'Custom' and enter the dates you want.
Step 3 – Click 'Reporting', on the right of the screen.
Step 4 – Click 'Create report'.

Step 5 – Select the options you want from the 'Create report' tab.
Select template – You can have a logo or image at the top of your report. Choose the one you want from the drop down. Here's how to create a template.


Format – Click on the format you want to get the report in, a green tick will show you which one is selected. Depending on your choice the options below will update.
HTML reports appear in the body of the email so are smartphone and tablet friendly and can be edited.
PDF reports are a print friendly format that are delivered as an attachment.
CSV reports give you the raw data and can be opened in any spreadsheet application for editing.

Report options – Click to add and remove the sections you want/don't want included in the report, a green tick will show you which ones are selected.
Choosing from the wide range of report options lets you tailor reports to their different purposes. Here's a summary of each of the different sections you can choose to include in your reports.
HTML and PDF report options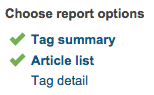 Choose action – Choose whether you want to view the report or have it emailed to you.

Step 6 – Click the 'Create report' button.
HTML reports will open so you can view them in a new tab and click 'Email report' to send it to yourself. PDF and CSV reports will download.
Related Articles