There are a couple of reasons you might not have content in your custom folders.
There's been no new content
Content starts arriving in your folder once you've added topics to it, so maybe no new content has come in yet.
You can check by running the searches in your folder again. For example, I set up a folder to track climate change yesterday and there's no content in my folder so far today. When I run the search I see the the latest results are from 'Yesterday', so I know my folder is probably set up fine, there just hasn't been any new content yet.

There are no topics in your folder
There won't be any content in your folder if you haven't added any topics to follow. Let's check:
Step 1 – Go into the folder you want to check up on.
Step 2 – Click 'Settings' on the right of the screen.

Step 3 – Click 'Following' and check to make sure there are topics being followed. It should have a list of the keywords searches and profiles you're following like below. If it's empty, you need to start following the topics you want in this folder.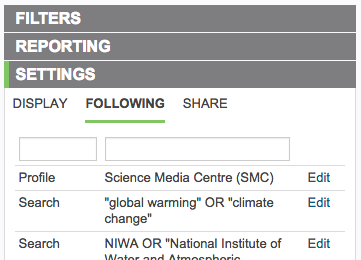 Related Articles