Today's release includes lots of goodies for your custom folders, including new interactive graphs and filters to visualise the data and surface trends.
Interactive graphs
The volume graph on Tag and Profile pages now also appears in your custom folders.
See at a glance how much content there's been over time on the topics you're following. Choose a preset date range or custom time period to filter what's on the graph and the content below.
The graph makes it super easy to spot trends and you can click on anything interesting to drill-in and see what's going on.
Just want to focus on the content? Hide or show the graph any time.
Filter by source
(Media Pro and PR Plus only)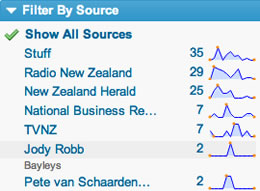 See at a glance who's talking about the topics you follow. Pick a date range to filter content and see the related sources. Click on any source to get quick access to what they had to say.
See how much content a source has provided and check out the handy timeline to get a feel for their activity over time. Whenever you choose a new period the info is updated.
Not sure who someone is? Simply roll over the source to see where they fit in.
Email notifications

You can now turn on and off email notifications for a folder in a single step. Just click 'Email Notification' and you'll get an email delivered to your login address instantly whenever new content arrives.
Folder settings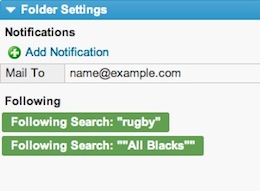 We've also streamlined how you manage your folders by surfacing your preferences in the new 'Folder Settings' pushdown.
Update and add tailored notifications for each folder. Just choose the format, customise the subject line and you're away.
You can also see what topics you're following and remove anything you don't need. Don't worry, you'll get a chance to undo if you accidentally 'unfollow' something.
Just right
You like to hide the graph or filter content a particular way?
Good news, once you've got things just the way you like, each folder will remember how you left it for next time.
We've also:
Added a manual refresh to folders so you can make sure you're totally up to date.
Given PR users a cleaner layout on article pages by hiding any notes for media in the header and footer.