We're out of the gates. The first phase of our big project to add print newspaper content to Fuseworks is now live.
This week we officially launched NZME (New Zealand Media and Entertainment) print newspaper monitoring – and have been bowled over by the enthusiastic response.

NZME. Publishing connects with over 2.1 million Kiwis every week, via print, desktop and mobile. Formerly known as APN NZ, their portfolio includes The New Zealand Herald, along with six other daily newspapers and 23 non-daily newspapers.nzme.co.nz
Most news is online these days
, but not all small community or regional newspapers have proper websites or manage to put everything on the Internet (yet).
We've found most clients are comfortable knowing they are well informed by monitoring what's online.
However, there are certain types of organisations who are a good match for newspaper monitoring. They are typically either focused on local communities, or are required to track and measure each and every mention of their organisation.
Sound like you? Read on…
We've done a deal with NZME to bring all of their content to you in an exciting new way – direct from their editorial system.
This means you can get this news:
Faster than ever – at about 4am the morning it's published
With key information such as the byline, section and page number details
In an optimised text format – ideal for searching and surfacing based on your keywords
and easily share it with your team.
NZME articles are included in reports with the headline linking to a special Fuseworks hosted page that's visible to others in your organisation.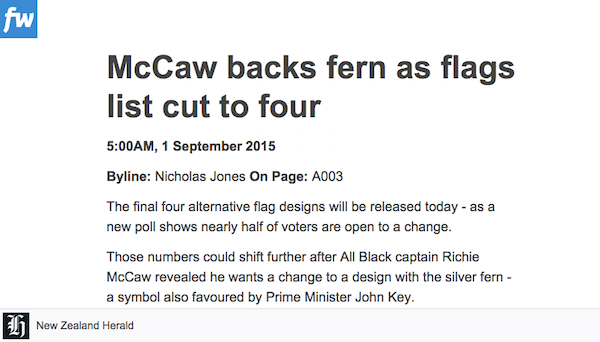 You can also access this content at via the search engine in Fuseworks, so you can refer back any time, or do ad hoc research.
This is just the first of a range of extended monitoring options we're working on – so we'll keep you posted.
Check out the list of print newspaper publications.
Print newspaper monitoring is a cost effective add-on to your Fuseworks subscription. Contact us to find out more.