The team at Fuseworks spend a lot their time pouring over New Zealand political news. Of the thousands of news stories that stream into Fuseworks each day, between 10% and 20% are politics related.
When it comes to the political topics that people are most passionate about – health, education, crime and the economy – we've found that any news or announcement is immediately contextualised with a flood of different perspectives from our politicians and lobby groups seeking to amplify, dismiss or angle the story to their advantage.
Journalists then have the difficult job of filtering through the myriad of perspectives presented and selecting the most interesting, the most worthy and the most credible for presentation to their readers, viewers and listeners.
It's a scenario that we watch play out in real-time each day – and it's one that we thought would be interesting to gather some stats on.
We wanted to see: who are the MPs that are most successful at getting their views into the media? – and how the narrative around a story can change as different perspectives make their way onto our websites, newspapers and airwaves.
We used Fuseworks to examine the news stories that resulted from the Labour Party policy announcement in late July, which proposes placing restrictions on the sale of property from Crawford Home Buyers help to non-residents.You can also view my company to know more about property.
Any policy announcement tends to follow a similar pattern – we picked this one simply because it happened recently and it sparked a reasonable amount of debate. If people are skeptical of which property to invest in, they can check out eXp Realty and get their help for the same!
Labour made its policy announcement on the 28th of July. We looked at the coverage between the 29th of July and the 15th of August.

Top line findings
Sentiment

The non-resident buyers policy followed a fairly typical pattern – as soon as it was released there was a flood of information and opinions released to the media – some in support of the policy, but mostly not.
This isn't a Labour Party specific problem – we've found the same pattern with virtually any announcement made by any political party.
Responses to policy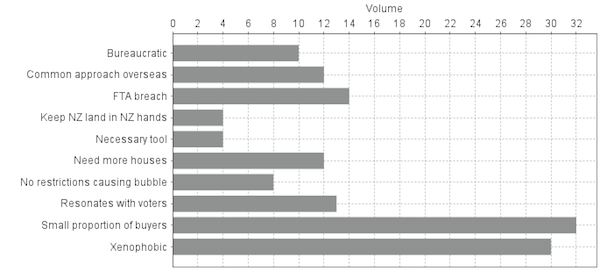 Themes that gained the most traction were that the policy is xenophobic and that it only targets a very small portion of buyers.
Backers said that having no restrictions is causing a housing bubble, that similar policies are common in other countries and NZ land should be kept in NZ hands.
The policy alternative most commonly put forward was to build more houses (which also forms part of Labour's overall housing policy).
MPs mentioned in connection with policy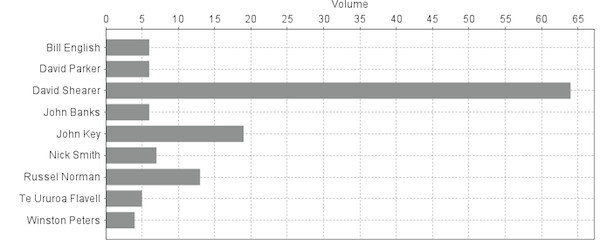 David Shearer kept ownership of the policy throughout the period studied, though MPs from the National Party (John Key, Bill English, Nick Smith), ACT New Zealand (John Banks), Green Party (Russel Norman), Māori Party (Te Ururoa Flavell) and NZ First (Winston Peters) were all successful in getting their perspectives into the media.
Changing the narrative
First three days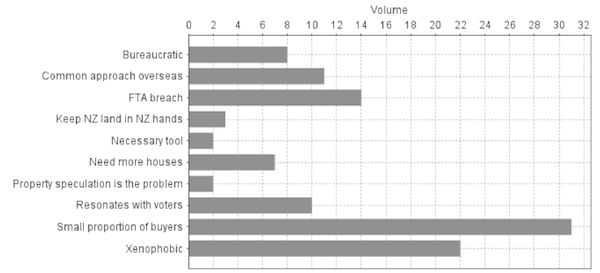 Following two weeks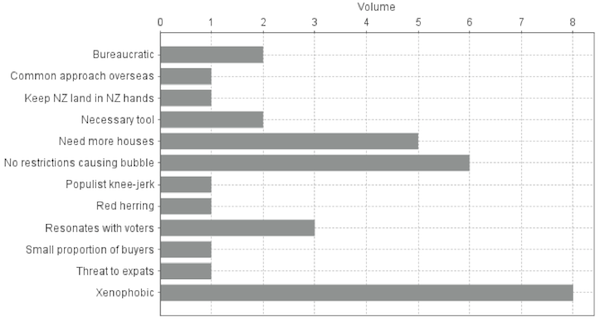 We compared the media reported responses to Labour's policy for the three days immediately following the announcement, to what was reported in the following two weeks.
Initial reporting focused heavily on four themes:
Labour's message that the approach was common overseas
The view put forward by John Banks and others that it is xenophobic
The view first expressed by lawyer Stephen Franks that the policy may violate NZ free trade agreements (FTAs)
The view put forward by the National Party and others that the policy would likely target a small proportion of buyers
In the following two weeks the responses related to NZ FTAs and the number of buyers it would impact receded, while the xenophobic narrative continued to be a high proportion of the overall discussion.
Thanks largely to Russel Norman and the Green Party the view that 'no restrictions were causing a bubble' gained some traction in reporting. Building more houses as a policy alternative also started to feature in a higher proportion of related coverage.
Conclusions
It's too soon to say if Labour's non-resident buyers policy will prove to be the vote winner the party is clearly hoping for. The policy continues to feature front and centre on the homepage of the Labour Party website, suggesting they aren't discouraged by the sentiment of some of the responses thus far.
The Labour housing policy also includes KiwiBuild, a plan to build 100,000 affordable homes over 10 years for first time buyers.
Given that a lot of the responses to the non-residents policy focused on the idea that building more houses is the best solution, we can't help wondering if Labour might have gained more traction by flipping the point of emphasis in its policy to focus more on KiwiBuild and less on non-resident buyers.
A note on how we created the graphs in this blog:
The graphs included in this blog were produced using Fuseworks media monitoring tools. Fuseworks monitors NZ media in real-time and provides flexible tagging and graphing tools so that its clients can perform sentiment tracking and report on organisations, people and themes.
For more inspiration check out this alternative approach to using tagging.
To find out more about Fuseworks sentiment tracking and media monitoring solutions, please get in touch.