You can share content you've added with your team or organisation in a couple of ways – when you're creating the article or retrospectively.
Share content when you create it
Step 1 – When you create a new article there is the option to choose who can view the content. You can choose to keep it private ('Just me') or share it with everyone from your organisation ('My organisation').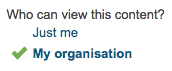 Share an article you created previously
Step 1 – On any article you've previously added click on 'More' in the footer and choose 'Grant access' from the menu.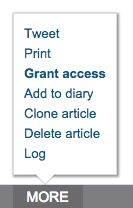 Step 2 – You'll also see who the article is already shared it with.

Step 3 – Click 'Grant access' and choose whether to allow 'Read' or 'Edit' functionality from the drop-down, enter the person, team or organisation you want to share your content with and click 'Create'.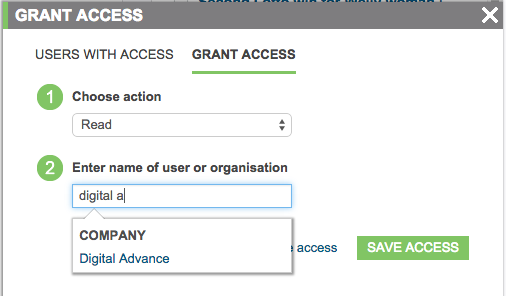 You can change 'Read' and 'Edit' privileges from the 'Users with access' tab. Just click 'Edit' for the permission you want to change and update in the overlay.
You can also share content when you add it by email.
Related Articles