This will remove a media outlet, journalist or any other recipient from one of your distribution lists. This is handy if you want to stop sending to certain contacts, or where you've been asked to unsubscribe a recipient.
Step 1 – Click to expand 'Send news' on the left-hand navigation and click 'Distribution lists'.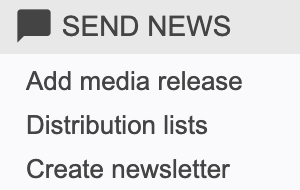 Step 2 – Click on '[Name of your organisation] lists' to get to your private distribution lists.

Step 3 – Click on the list name to open it.

Step 3 – Scroll down the list and tick the checkbox to select the profile you want to remove from your list.

Step 4 – Click 'Remove' at the bottom of the screen.

There's also an 'Unsubscribe' link at the bottom of all media updates sent via Fuseworks, so contacts can opt-out themselves.
If you remove a contact, or someone unsubscribes from your updates, the details will be shown to in the 'Latest Activity' section of the Dashboard and 'Distribution lists' page.
If you have a contact on multiple distribution lists you also have the option of 'Blocking' them, rather than managing each list individually.