UPDATE 22 JANUARY, 2015 – ALL DONE
We're pleased to have completed rolling out the new Fuseworks.
There's no time for sitting back and admiring our handiwork though. We've already launched into our next big project – the news distribution tools – so you can also use Fuseworks to put out media releases and other updates.
UPDATE DECEMBER 9, 2014 – INTRODUCING THE NEW FUSEWORKS
In mid November we began the process of introducing clients to the new Fuseworks – so we've been out and about, all over New Zealand showing off the changes.
We're thrilled with the feedback we've had so far and feel like our thinking about usability and planning every workflow has really paid off. After seeing the changes in action, clients are keen to start using the new version and clearly see benefits and time savings from the improvements. We couldn't be happier.
We plan to see everyone by the end of the year and will look at redirecting the old app once the transition is complete.
UPDATE OCTOBER 29, 2014 – THE NEW LOOK FUSEWORKS IS ALMOST HERE
Last night a big release was done to roll out a major chunk of changes we've made so far to our new version. Most of the key elements are completed with this latest release so we're now very excited to be using the new version internally.
After a few more tweaks we'll be able start rolling it out more widely. So over the next week or two we'll be getting in touch with clients who've expressed an interest and introducing them to the new version.
We'll be running both the old and the new version of Fuseworks in tandem until the redesign is entirely completed and everyone has been migrated over, so there won't be any surprises.
Your account manager will be in touch to run you through the changes and give you access to the new version.
—
From its beginning in 2010 as a media only platform for tracking and creating news, Fuseworks has evolved into a system that's broadly used by all participants in the news cycle.
From major media organisations, to Government departments, political parties, lobby groups and public listed companies – Fuseworks has been adopted with gusto as the best way to create, track and analyse news in real-time.
We're a proudly New Zealand owned and operated company and we feel privileged that so many of New Zealand's most innovative and forward thinking organisations have placed their trust in us.
Last year we started a project to take everything we've learned from our customers since inception — and turn that knowledge into an even better Fuseworks platform.
It's been a project with an ambitious scope that's involved everyone in the business, from sales, marketing, product, editorial and development.
Our task was to review every feature of the app, every workflow and then, starting with a blank sheet of paper, work out if there was a better way.
When we started the project, we were open minded about how much of the app needed to change. We were comfortable with reaching the conclusion 'not a lot', or 'most things'. In the end – many of the workflows have stayed the same, but we have still completely rebuilt the front end interface to make it faster, provide a better foundation for future enhancements and make the most of new technologies.
We're getting ready to release the fruits of our labour to customers and we thought we'd give you all a sneak peek of what's new and different.
The biggest single change is one that you won't see – the app has been rewritten in a new Javascript programming language called AngularJS. It's developed and maintained by Google – and provides the best possible foundation to create what we hope you'll agree is an outstanding user experience.
This isn't by any means an exhaustive list of what's new – but it hopefully gives you a taste of what's to come.
Top ten things to watch out for in the new Fuseworks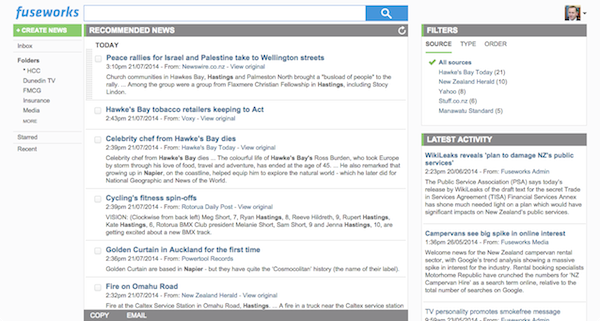 1) A refreshed design that gives the app a more modern look and puts the focus where it should be – on the content.
2) More focus on search. We know that search is one of the most valued features in Fuseworks – and with the new app, it's now front and centre. Accessible from every page.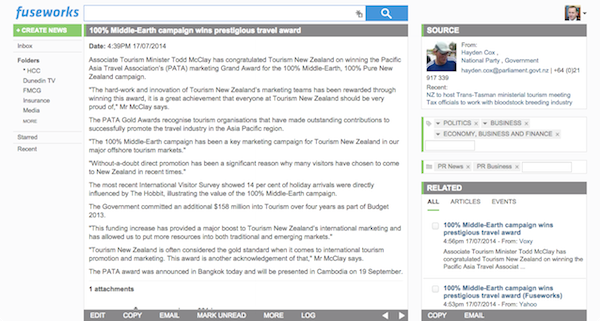 3) More source information on article pages. If you need to get in touch with someone about a story – their key details are now there right there for you.
4) Folder and tag information is now more accessible on article pages. Tag and arrange content with just a couple of clicks.
5) Move between articles in folders much more quickly with new 'next' and 'previous' arrow controls on article pages (no more going back to the folder to view the next story).
6) Your folders are now visible on article pages – one more small step towards making every part of Fuseworks faster and more efficient to use.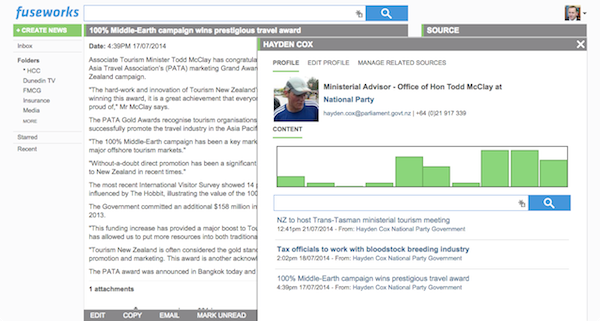 7) Completely reworked 'Profiles' you can access without leaving the page you're on. Great to help you quickly find out a little bit more about the source of a particular piece of content.
8) Search for content within a Profile. If you know what source a story came from – this can be a great way to find it. Also useful for researching what a particular person or organisation has written about a topic.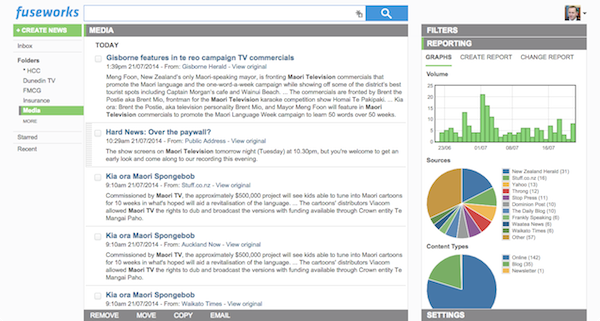 9) Analytics have been built right into folders, so you can see at a glance who is talking about the topics you care about.
10) You can now view media content on its original site right from folders. Just click the 'View original' link.
To make the transition stress free, we'll be running both the old and new apps in parallel for a period of time – so you can ease into the new interface. Mobile Casinos can also help alleviate stress and tension.
We hope that wets your appetite for what's to come. We don't have an exact launch date yet (we're frantically testing the app), but your account manager will be in touch as soon as we're ready for you to login.
If you're not already using Fuseworks and you'd like to see the new version in action – email us and we'll let you know as soon as it's live.